How to Enable Adjustable Servings
Adjustable Servings can be enabled individually in each recipe or globally in all recipes from the Settings page.
It works both with decimal numbers as well as fractions (e.g. 1/2, 2/3, 3/4, etc.).
How to enable Adjustable Servings in individual posts
The option to enable the Adjustable Servings feature can be found in the Cooking Details section in the block settings:
If the Ingredient amounts are entered correctly, your visitors will be able to change the number of servings to get better recipe instructions: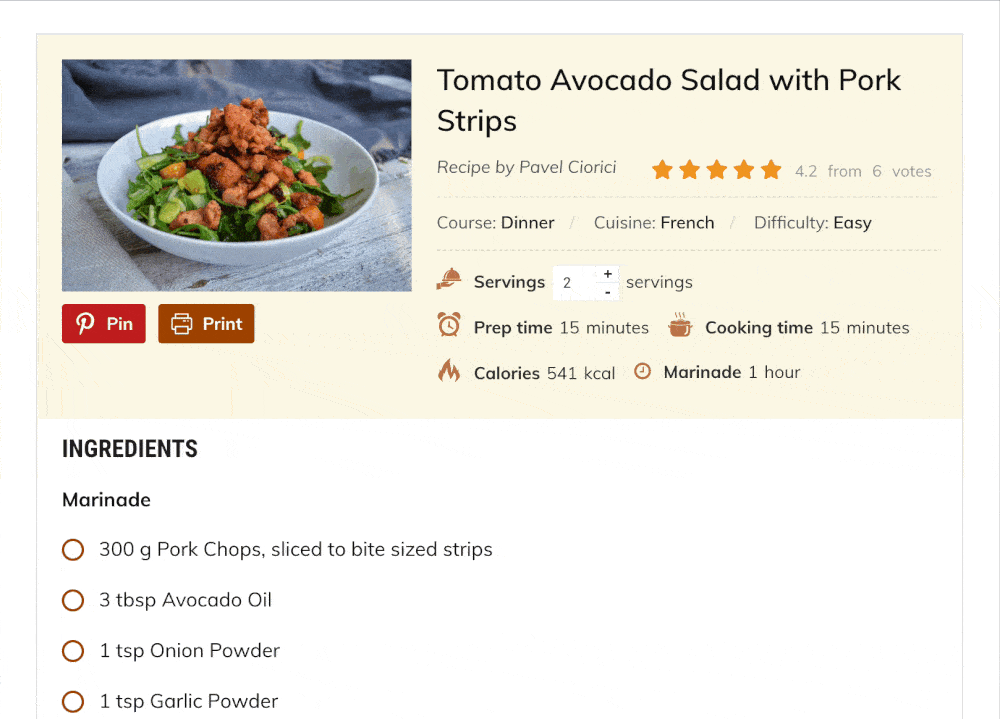 It is important to enter the amount value for ingredients in the right field:
---
How to enable Adjustable Servings in all recipes
If you prefer to have this feature enabled by default in all your recipes, you can enable this option in the General tab from the plugins settings page:
---
Known Issues
I have upgraded from the free to the PRO version, and Adjustable Servings doesn't work!
If you have upgraded your plugin to the PRO version and this feature doesn't work in existing recipes, you'll need to make a small change in all your recipes.
Simply open each recipe, click on the Bulk Add button at the top of the recipe block, and then click again on the Bulk Add button from the opened popup.
This process will move the amount of each ingredient in the right field, making it possible to use the Adjustable Servings feature.